During an earlier placement a 2nd year student had started to look at how to repurpose a particular space to enhance the sensory needs of the children, and the school were thinking carefully about their sensory provision. They designated some funds available to create a library of sensory regulation equipment for parents to borrow and use at home with their children, as well as information about where parents can purchase for themselves.  Sophie & Georgina then instigated this project during Covid-19, recognising that it was more important now than ever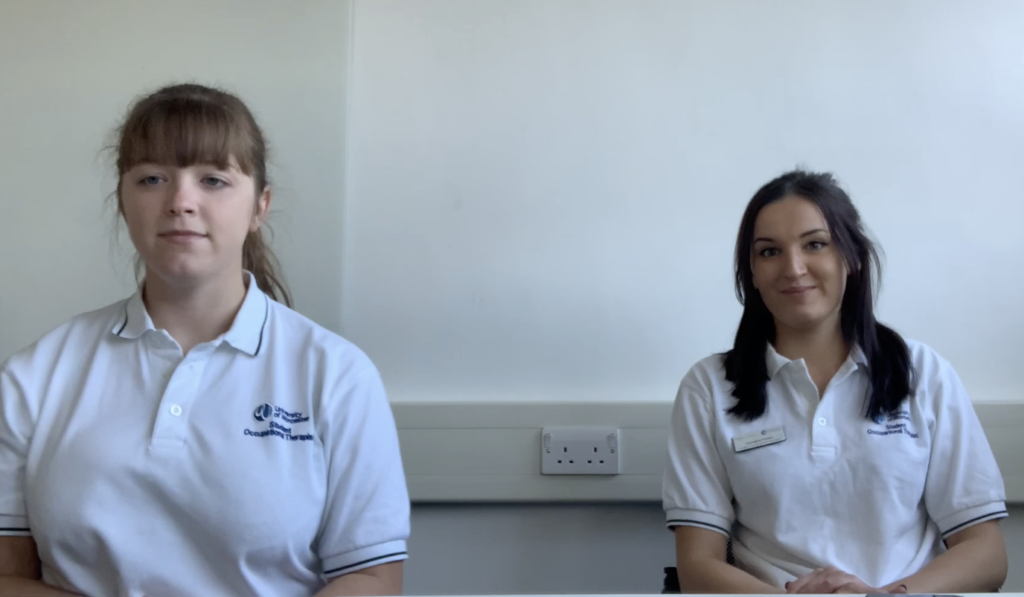 Due to the Covid 19 pandemic, the school were not in a position to allow them to visit the site or work directly with the children.  This resulted in the placement becoming 100% remote, allowing Sophie & Georgina to develop their skills in telecare as they worked with parents and teachers to establish what was needed, integrating the latest evidence into their thought processes.   
"This placement provided me with the opportunity to develop my skills in project management and prioritisation. I was able to apply this learning into my final placement when managing a caseload in an acute setting"

Sophie, 3rd year Occupational Therapy Student
"I was apprehensive when commencing an entirely virtual placement, how would I not only ensure a beneficial learning experience for myself but also provide effective and valuable Occupational Therapy input for the service users? … without even thinking about it we were able to achieve all the above! Completing this placement hugely developed my confidence in leadership and project management, taking responsibility for maintaining communication with all involved and managing my own time and workload. This has been an invaluable skill which I have taken with me to my final placement which has been patient-facing, but also virtual."

Georgina, 3rd year Occupational Therapy Student
A press release detailing the opening of the sensory library can be found here.
The project commenced by Sophie & Georgina was continued during the next placement opportunity by 3rd year student Bryony and 2nd year student Paula, to see the project through to completion.  The library's press release can be found here.
"This placement has been really rewarding – seeing the work I've completed used by the families and getting positive feedback from both parents and the school. It's also helped to cement my passion for working with children and I know that it is definitely the route I want to go down for my future career."

Bryony, 3rd year student
" Working on a project placement provided a wide range of learning opportunities, improving my collaboration skills, knowledge and confidence. It truly has been a pleasure to witness the growth of these two projects, and already see the positive impacts it's making to children and their parents, giving me a great sense of achievement and pride".

Paula, 2nd year Occupational Therapy Student
The library is now successfully up and running and available for members of the school community to access. You are welcome to peruse the library to see the culmination of the students work here